Sea sponges: a gentle, environmentally friendly beauty ritual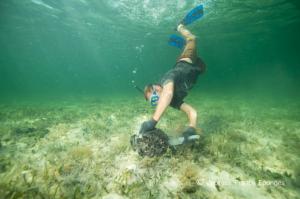 Sea sponges are harvested via environmentally friendly fishing methods, using a proprietary technique developed by Cypréos France Eponges in conjunction with Dr Thierry Perez from the Oceanology Centre of Marseille. We use highly skilled fishermen with the experience needed to identify sponges that meet commercial and legal requirements (only around 15 of the world's 8,000 sea sponge species can be caught for commercial sale, and there are limited quotas, and even bans, on harvesting small sponges). The selected sponges are cut at the root, to help promote rapid regeneration and to protect the species. This process also helps to ensure that fishing zones remain fertile and promotes stock renewal.
Sea sponges are harvested from the sea bed. They are an entirely natural product and are therefore 100% biodegradable. Once harvested, our sponges are thoroughly cleaned to remove all marine residues.
The quality of our sea sponges reflects the environmentally friendly fishing methods used to harvest them. What's more, they also help users to do their bit to protect the environment – they require less water than a washing mitt and produce no waste (unlike make-up removal pads, wipes and synthetic sponges).
Sea sponges are a considerate, sustainable, environmentally friendly alternative to standard beauty and skincare products.